【Gemini Meteor Shower from December 14 to 16】
The highly anticipated Gemini meteor shower is coming in December! This year, the active period in Hong Kong coincides with the darker phase of the new moon, making the observation conditions ideal. According to the observatory's recommendation, to observe the meteor shower, it is best to go to suburban areas that are far from the city, have a wide and unobstructed view, and low light pollution.
Saiyuen is creating an environment favorable for observing the meteor shower. From the 14th to the 16th, the entire area will have reduced lighting to minimize light pollution. Each camper will be provided with a small red light, and reclining chairs will be placed in suggested locations for stargazing convenience.
Don't miss out on this unforgettable experience! Book your unique camping tent and enjoy the opportunity to watch the meteor shower while lying on the spacious grassland at Saiyuen.
In addition, you can enjoy discounts of up to 20% off for staying in featured tents or bringing your own tent from Dec 14th to 15th!
The check-in time will be extended until 9:00 PM, so you can finish work and then come to Saiyuen!
Enter the promo code "LightsOut2023" during the booking process to enjoy the discount.
For instructions on how to use the promo code, you can refer to this link: https://www.saiyuen.com/en/FAQ#cee24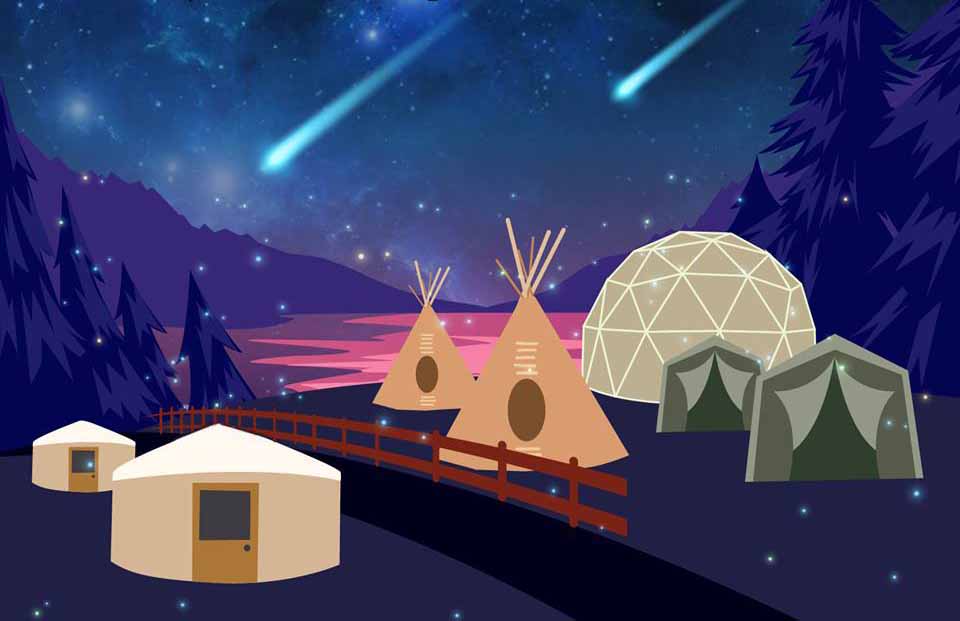 Lights Out Arrangement
| | |
| --- | --- |
| Turning off non-essential lights | The entire area |
| Date | From December 14th to 16th, the lights will be turned off from 9:30 PM to 6:00 AM. |
During the meteor shower period, special arrangements will be made for the operating hours of the reception area and shops
| | |
| --- | --- |
| Date | From December 14th to 16th |
| The operating hours of the reception area and shops | 09:00 ~ 23:00 |
| Check-in time | 15:00 – 21:00 |
Here are some stargazing etiquette and precautions to keep in mind:
Please refrain from shining flashlights directly into people's eyes, cameras, or telescopes. Strong light can cause discomfort and make it difficult to see fainter celestial objects. It can also interfere with others' photography.
When stargazing, please use a red light flashlight for illumination. The human eye is less sensitive to red light, and the pupils will remain dilated even under dim red light. Guests are advised not to use bright flashlights. If necessary, please cover the flashlight with red cellophane or use the small red lights provided by the park for illumination.
Please refrain from using flash when taking photographs. Dimmer celestial objects in the night sky require long exposure times for photography. Using a flash will not only be ineffective but also disturb others who are observing the meteor shower.
Please be mindful of noise levels and avoid being loud. While it is natural to feel excited and cheer when a meteor streaks across the sky, it's important to keep conversation volumes at a considerate level so as not to disturb others who are observing the meteor shower.
Please keep the area clean by disposing of trash in designated garbage bins or recyclin g containers.